A short trip to Istanbul allowed me to ride all of the lines (tram, metro, tünel, metrobüs, ferries, Marmaray etc.). Photography is difficult as it is not allowed in the stations and there is a lot of security. I had no problems away from the stops but some of the lines offer very few photo opportunities as there is a lot of reserved track (heavily fenced in). Changing from line to another at the main interchanges is often arduous (long to very long walks, many steps or escalators and nearly always one has to pay another fare – there is no day ticket but the electronic Istanbul card offers a huge discount on single fares and is available on all services).
Here are some links to maps (past and present):
– old tram lines (together with current lines)
– todays system (with metro lines)
Istanbul Ulasim tram line T1 – services now seem to be exclusively Bombardier and new Alstom cars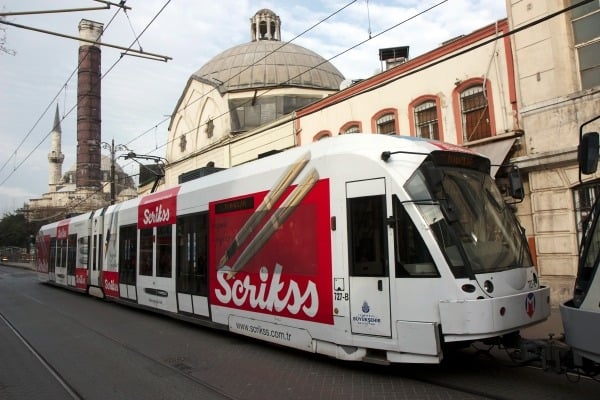 Istanbul Ulasim tram line T3 (though the cars carry route "20") – Gotha and RAW Schöneweide (type "REKO") cars are used ex Germany (no REKO car was seen in service during my visit)
Istanbul Ulasim tram T4 (really a light rail line but it does run on the street a lot between high fences) – service is operated mainly by the new 300 class Rotem cars plus ex Cologne B type Stadtbahn cars (also seen were two trains made-up of the original T1/M1 high floor cars built by ABB; one of them included a prototype Turkish car no.RTE2000; the other prototype no.RTE2009 was absent)
IETT tram line T5 (no router number is shown) – this line runs between Taksim Square and the Upper station of the Tünel funicular and was re-introduced in 1990 as a tourist attraction
Istambul Ulasim Metro Line M1
IETT Tünel (route "T")
TCDD Marmaray (electric suburban using the new tunnel under the Sea of Marmara) at Sirkeci station (the station is now closed but the nearby depot is used for the new Marmaray fleet) and the current Asian terminus of Ayrılıkçeşme
Rahmi M. Koc museum (this has 3 trams on display and also a carriage of the original Tünel line – plus a London Routemaster and many other exhibits that I did not bother to photograph…)
other impressions
TCDD Haydarapasa station (on the Asian side) – when the Marmaray lines are finished (at the moment only a short stretch in the middle including the new tunnel is in operation) this station is also to close. The last image shows two TCDD railway ferries (Demiryolu III and I) moored there.
Ferries (4 different operators run an extensive fleet connecting all parts of Istanbul that have access to the water) – this is the boat "Besiktas I" of the SEHIR HATLARİ company