The Riga tramway has a large fleet of non-passenger cars. The fleet is currently numbered in the 880xx series. Unlike the passenger fleet, the fleet numbers shown on the trams are the real numbers (on the passenger cars the first digit of the fleet number indicates the depot and the last digit is just a computer check number – hyphens after the depot number are no longer in use).
I have listed the workscar fleet going by the original number (which until 2010/2011) was mostly in the 4xx range (with some 3xx cars) – ignoring the leading depot number which did not come into fashion until the 1980s. In some cases the fleet numbers have been used multiple times for different vehicles. In recent years the workscars were rebuilt from passengers cars that were often involved in heavy accidents.
I have a few older images in my collection which I have included here, the fleet list is unfortunately not complete. I'll add more data and photos if and when this becomes available.
Current fleet

301 / 88020 Water Car (ex passenger car 4-1013 ex 3-1013)
http://phototrans.de/14,495758,0,Tatra_T3SU_88020.html
302 / 88021 Water car (ex passenger car 3-1002 ex 1002)

303 / 88022 Water Car (ex passenger car 3-1025)

401 / 88001 Grinder (ex passenger car 3-1040)

402 / 88002 Grinder

403 / – >>> sold to Daugavpils (403) Grinder

404 / 88004 Grinder

405 / 88005 Snow Sweeper

406 / 88006 Snow Sweeper

407 / 88007 Snow Sweeper

408 / 88008 Snow Sweeper

409 / 88009 Snow Sweeper

410 / – >>> see "previous workscars" (further down)
411 / 88011 Snow Sweeper (sitting with rusty and empty new body in depot no.3)


Photo: Bernd Freimann
412 / 88012 Snow Sweeper

413 / 88013 Snow Sweeper

414 / 88014 Snow Sweeper

415 / – >>> see "previous workscars" (further down)
416 / 88016 Crane Car (ex passenger car 3-1008/1008)

417 / – >>> see "previous workscars" (further down)
418 / not numbered Water Car (trailer)

419 (no details known – may not have existed)
420 / – >>> see 301 / 88020
421 / – >>> see 302 / 88021
422 / – >>> see 303 / 88022
423 / 88023 Water Car (ex passenger car 3-212-3 ex 3-222)

424 / 88027 Track Gang Car (ex 5-424 ex passenger car 1044)
425 / 88025 Track Gang Car (ex 3-425 ex passenger car 5-1071)

426 / 88026 Track gang Car (ex 4-426 passenger car 5-1184)

427 / – >>>  see 424 / 88027
http://transphoto.ru/vehicle/195679/
428 / 88028 Track Gang Car (ex passenger car 3-211-2 ex 3-221)

429 / – >>> see "previous workscars" (further down)
430 / – Track Gang Car/Transporter Car (ex passenger car 3-1122)

431 (no details known – may not have existed)
– / 88032 Training Car (ex passenger car 5-2146 ex 5-1146)

– / 88033 Crane Car (ex passenger car 3-215-6 ex 229)

other workscars (probably all have an inventory number – noted it where known)
Mobile Substation (has not moved in years!)

Tower Car (trailer)

Snow Plow (trailer) -?-

Diesel Shunter 48-1855 = Zwiehoff Zagro (built 2010)

Rail Bending Machine (trailer) 48-0014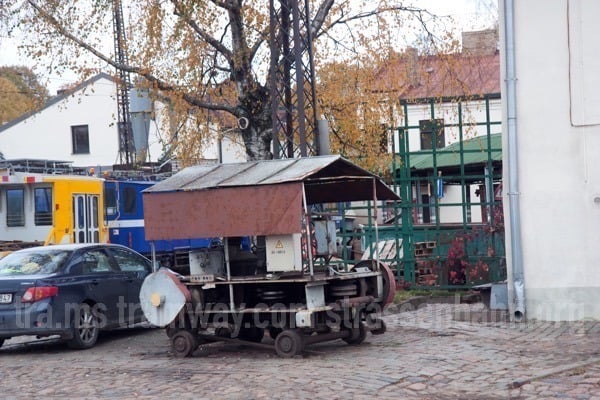 future workscars (new numbers not yet known)

Water Car (using passenger car 3-225-4)

this is probably the tank that goes on the new Water Car

Track Gang Car -?-

previous workscars (includes all cars where information and/or photos can be found on the internet)

111 / –
http://forum.myriga.info/index.php?act=attach&type=post&id=20017
303 / –
http://riga.mashke.org/Riga-Tram/RM-67/301/303_1987_05_20_xx_01.jpg
311 / – Water Car
http://forum.myriga.info/index.php?s=cd23472b29d27b257003959511d9bd85&act=Attach&type=post&id=46101
408 / – Snow Sweeper
http://ymtram.mashke.org/latvia/riga/photos/riga19042vw.jpg
410 / –
https://transphoto.org/vehicle/184468/
411 / 88011 Snow Sweeper – showing the previous body
http://phototrans.de/15,201253,389.html
415 / – Water Car
http://forum.myriga.info/index.php?s=cd23472b29d27b257003959511d9bd85&act=Attach&type=post&id=46099
416 / – Transporter Car

417 / – Water Car
http://forum.myriga.info/index.php?s=cd23472b29d27b257003959511d9bd85&act=Attach&type=post&id=46098
418 / – Water Car
420 / – Dust Cleaner (RM-67)
421 / –
https://tramway.com/wp-content/uploads/2014/12/c5635-epson305.jpg
422 / – Water Car (RM-67)

423 / – (T3 ex passenger car 3-1039)
428 / – (RM-62 or 68)
http://ymtram.mashke.org/latvia/riga/photos/riga19020.jpg
429 / – (RM-67)
430 / – (ex passenger car 121)
450 / –
http://ymtram.mashke.org/latvia/riga/photos/riga19040vw.jpg
1002 / – Training Car (T3)
1146 / – Training Car (T3)